The ISES Solar World Congress 2021 will offer your company or institution an excellent plattform to connect with the global ISES audience. Learn more about becoming a Sponsor at SWC 2021 below and find out which sponsorship packages is best suited to your needs!
For any questions, please do not hesitate to reach out to us at swc [at] ises.org.
Highlight your solar expertise by becoming a SWC 2021 Sponsor!
The ISES Solar World Congresses have been the leading solar congresses for over 50 years - join SWC 2021 and benefit from a truly well connected, divers and enthusiastic solar community from all around the globe!
By joining forces with the International Solar Energy Society, there will be plenty of opportunities for your company/institution to communicate to decision makers, project developers, businesses, researchers and financers of the significant technological advances and commercial successes of solar energy technologies. This engaging and unique setting of the Solar World Congress offers you instrumental reach and networking opportunities on a global level.
As SWC 2021 Sponsors you will have prime access and exposure and you will profit of benefits such as:
Strong brand visibility and global promotion campaign before, during and after the congress
Access to international solar energy experts, including promising young professionals
Speaking opportunity
Sponsorship Packages tailored to you!
At SWC 2021 we offer sponsorship packages of different categories so you can choose what best fits your needs. Have a look at the packages and connect with us at swc [at] ises.org
At SWC 2021, we offer sponsorship packages in the following categories:
Platinum
Gold
Silver
Standard
Custom
To learn more about each of the categories, the services offered and prices, please find our complete list of sponsorship packages here or download it below!
For any questions, do not hesitate to reach out!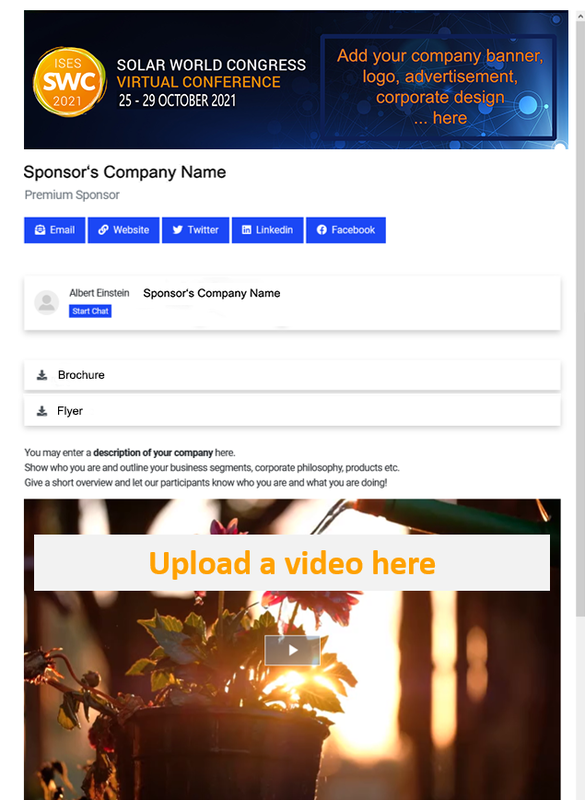 Solar World Congress Quick Facts
Congress Dates: 25 - 29 October 2021
Congress Format: Technical Sessions, Key Notes Speeches, Plenaries, Poster Sessions, Forums, Networking
Attendees: 300+
Congress Language: English
Learn more about the ISES Solar World Congresses here!
Why sponsor?
Positioning – Be seen as a leader within the solar and renewable energy community.
Branding – Raise your company's visibility, increase brand awareness and highlight your company's presence as an active and important player in the field.
Focus – Interact with an international audience. Generate new business for your products and services.
Network – Networking at SWC 2021 will begin well in advance of the congress - one week prior to the start of the congress, we will open the congress platform allowing our congress attendees to start networking with you right away. During the congress, your exhibition booths are available to our congress attendees round the clock during giving you the opportunity to extensively network with colleagues, potential customers and leaders in solar energy research and development.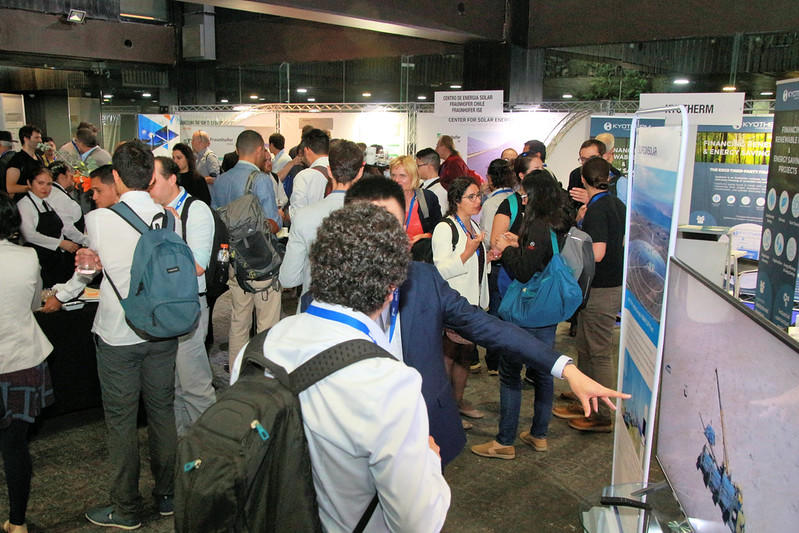 Former Solar World Congress Sponsors